Welcome to Petersburg Veterinary Clinic
---
Petersburg Veterinary Clinic would like to take this opportunity to welcome you, your family, and your special family members to our website. We are proud to provide expert veterinary services for small and large animals in Petersburg, Illinois. Together with the Cornerstone Animal Hospital of Pleasant Plains, Illinois, we have been serving the community for over 50 years. We invite you to learn more about our veterinary services for small animals, large animals, and horses. At Petersburg Veterinary Clinic, we look forward to meeting every member of your family, and establishing a long-lasting relationship with you and your pet.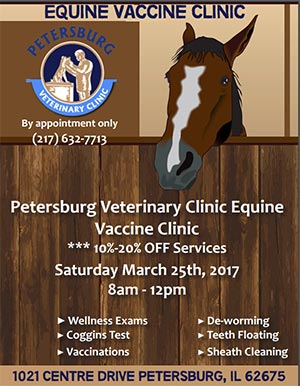 Don't miss our equine vaccine clinic! For more information, click on the flyer. We hope to see you there!
Petersburg Veterinary Clinic is open Mondays through Fridays, from 8:00AM to 5:30PM, and on Saturdays, from 8:00AM until noon.
Call Petersburg Veterinary Clinic today at 217-632-7713 for an appointment, or visit our sister clinic:
Cornerstone Animal Hospital
104 E. 4th St., Pleasant Plains, IL 62677
217-626-2606